fee-schedule
Fee Schedule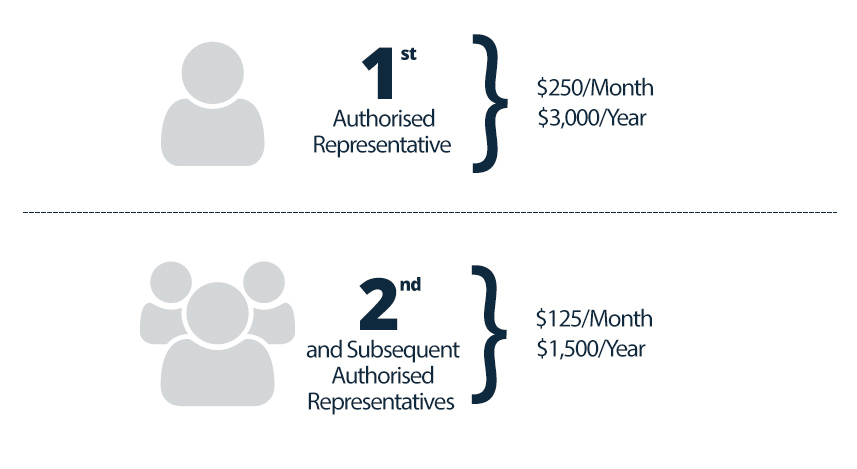 | Monthly Fees | Total Per Month | Total Per Year |
| --- | --- | --- |
| 1 x Authorised representative | $250 | $3,000 |
| 2 x Authorised representatives | $375 | $4,500 |
| 3 x Authorised representatives | $500 | $6,000 |
All prices indicated are exclusive of GST
In addition you will need Professional Indemnity insurance which is not included in these fees. However, we have negotiated a cost effective solution of $700* per annum per practice – plus GST (up to a maximum of 3x Authorised Representatives) and $250* per annum per practice – plus GST for each additional Authorised Representative over three.
Administration charges also apply, for any business changes made once authorised.
Application Fee
A $250+GST application fee is applicable upon applying. Once you have been successfully authorised your first monthly fee will be waived.
Government Charges
ASIC has imposed an industry funding levy, the cost is for each authorised representative (AR), and is estimated to be $960 per annum. This levy will be passed on in full to the AR. For more information, please click here.
*Subject to change.
Become an Authorised Representative of SAN
If you're not already
For more Information on SAN
Email or call us on 1800 906 456
Back